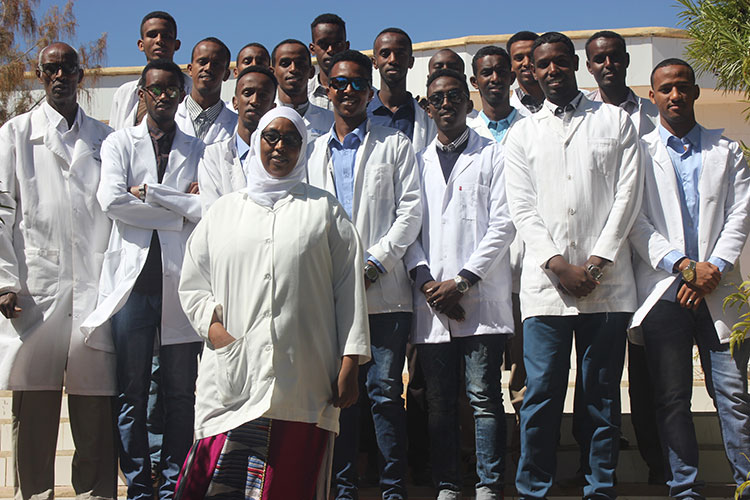 Introduction
The BSc. Medical laboratory science is a professional course which is intended to equip the trainees with knowledge, skills and attitudes to enable them to work as medical laboratory technologists. The programme was established on the 27th Sept 2010. It's the first four(4) year degree course in medical laboratory technology ever established in SOMALILAND and SOMALIA. Medical laboratory technology training combines theoretical knowledge of the basic natural and medical sciences with the skillful use of sophisticated equipment and techniques to provide vital information that may be required for the diagnosis and treatment of diseases, quality control, quality assurance, research development and production. In addition to the medical scientific knowledge and good technical skills, attention to detail, analytical and critical thinking are required for certification as a medical laboratory technologist. It was established in the academic year of 2010-2011 with the aim to produce medical technologist with knowledge, skills and attitudes who are able to fill the gap in the health working force of the laboratories. Its academic program is designed for   four years of study   leading Bachelor of Medical Laboratory Technology (BMLT). It's curriculum is community oriented education and combines theoretical knowledge of the basic natural and medical sciences with the skillful use of sophisticated equipment and techniques to provide vital information that may be required for diagnosis and treatment of diseases, quality control, quality assurance and  research to formulate the policies and measures for the prevention of diseases. The educational program is designed to produce professionals who can use the knowledge they have acquired to develop their countries and improve the quality of lives of their people.
There are Inadequacies in laboratory infrastructure and a low national priority and neglected, not only because of more pressing health problems and emergencies but also because of lack of manpower, skills and equipment which finally leads to under-utilization of laboratory services available. Health care programs dictated by donor agencies often do not consider broader regional needs or make provisions for overall sustainability. The migration of skilled laboratory personnel due to the civil unrest deteriorates the situation. The majority of hospitals cannot consistently provide even these basic services in a quality-controlled fashion. unreliable and inaccurate laboratory diagnostic testing leads to unnecessary expenditures in a country already plagued by resource shortages, promotes the perception that laboratory testing is unhelpful, and compromises patient care. Amoud School of lab technology was established to initiate new source of producing skilled laboratory personnel to ensure accurate laboratory services that contribute well to the patient care and secure physicians' confidence in applying laboratory results to their daily practice.
The curriculum is community oriented education with emphasis on self-learning to develop in the students the ability and willingness to pursue their own learning after graduation to become competent lab technicians and community oriented. The School is also committed to advance knowledge about health through research in all areas related to health care including basic science, clinical science education and studies related to methods for the delivery of health care.
Vision
Is to be an excellent school of laboratory technology to produce highly skilled, competent, and professional lab technologists.
Mission
The Faculty of Medical Laboratory Sciences will produce highly trained and skilled Clinical Laboratory technologist who  have the capabilities and drive to:
Be leaders in clinical laboratories, universities, as well as other medical related services.
Improve laboratory diagnostic services, locally and globally.
Conduct high level scientific research to gain better understanding and offer new diagnostic tools for endemic diseases.
Objectives
Objectives of the school is to:
Apply the principles that form the basis of the medical laboratory practice to select, set up and operate laboratory equipment carry out standard procedures to obtain quality results.
Manage services and resources of a medical laboratory.
Participate in the multidisciplinary planning, implementation, coordination and evaluation of healthcare of the individual and community.
Contribute to the development of science and technology through creativity and application of acquired knowledge, skills and attitudes.
Initiate and participate in the improvement of the diagnostic procedures.
Create awareness and appreciation of laboratory services to the general public.
Carry out quality assurance and quality control.
Participate in continuing medical education.
Strategy
Most subjects are taught with a variety of methods including lectures, projected materials with lecturers notes presented to the students, practical work and seminars.
Problem based learning
Self directed learning
Group dynamics
Team work
Early practical training at all levels of health services (individuals, families and communities)
Staff training and development
Criteria for admission
The students entering the school should have the following minimum requirements:

 Completed secondary education
 Have completed one year of freshman course
 A freshman GPA of greater than 3.0
 An interest in medical laboratory
Or

 Holder of diploma of medical laboratory sciences from an institution recognized by Amoud university.
Curriculum Evaluation
Graduation requirements
The credit hour per semester forms the basis of awarding a degree at the university.
in order to be eligible for a degree, a student must earn successfully a minimum of 124credit hours with an overall GPA( grade point average) of at least 2.5.
Academic Calendar
The university operates on a semester system and academic year commences mid September the previous calendar year and continues until mid July the following calendar year. There is a one month holiday break after the first semester and a two –month holiday at the end of the academic year.
Students enrollment of the school
#    class    # students
1    1st year lab technology    25
2    2nd year lab technology    25
3    3rd year lab technology    27
4    4th year lab technology    18
total    total    95
Students' Assessment
Written examinations: multiple choices questions, for example single best answer, extended matching questions (EMQ) and short answer questions (SAQ).
Objective Structured Clinical Examination (OSCE).
Individual student portfolios including work at rural & Health centers and students assignments.
Research project.
Educational resources
Text books
Library
Teaching Hospitals
Educational development Unit.
Community sites
MHC's
Teaching Hospital Teaching Hospital
Allaaleh Hospital
Al-hayatt Hospital
Borama Regional Hospital
MCH's    MCH's
     Four main MCH's in Borama

Tel      + 252 63-4542041
     + 252 63-4455191    
     + 252 63-4546844

Email: This email address is being protected from spambots. You need JavaScript enabled to view it.
Related Items: